06 En 2014
Fort Western Donates Cowboy Boots and Toys for Christmas to the Center for People in Need
Man-made upper is decorated with western-inspired cutouts and embroidery. Boot straps at the sides for easy on and off. Decorative stitching adorns the toe. Embroidered Roper logo decorates the side. Light-up heel or shaft adds some extra fun. Single-stitch welt. Durable rubber outsole. Measurements: ; Heel Height: 1 1 2 in ; Weight: 10 oz ; Circumference: 11 in ; Shaft: 7 in ; Product measurements were taken using size 9 Toddler, width M.
Much more related information may be found on this excellent website:
http://shopping.yahoo.com/949347150-kids-western-lights-cowboy-boots-cowboy-boots-pink/
Boots for Fijian child footballers
People with used football boots are being encouraged to drop them in collection boxes at Coles stores, from where they will be cleaned and donated to children in remote indigenous communities in the Northern Territory and Western Australia. Indigenous AFL star Burgoyne said his experience in indigenous communities had taught him that this type of program could have a strong impact. ''They might just throw them away, but with this you can come down to Coles, chuck them in the box and they'll get shipped out to people in communities that really need them. ''It's just giving something back. I'll be going home to get all my spare boots and dropping them off tomorrow.'' Freeman added: ''I think it will have an impact on indigenous families and kids in those far-flung regions of Australia, because they'll realise that giants like Coles are open-hearted and wanting to make a difference in their lives.'' Giving something to kids and keeping them connected to community and education is behind The Age's Boots for Kids campaign.
Look at the resource information on this page:
http://www.theage.com.au/afl/afl-news/helping-indigenous-kids--boots-and-all-20130724-2qjrq.html
Cute Boots for Kids
They have microfleece lining to keep kids cozy on the inside and reflective detail on the heel for safety at night. Theres a pull-tab to help kids slide the shoes on and off, plus no-slip grip on the outsole. Giddy up! These Western Chief rain boots for girls (Macy's, $25) feature fun pink pull-handles and colored polka dots that capture just about every color in the post-storm rainbow. They have a sturdy rubber upper that can be easily wiped clean and soft cotton-knit lining on the inside to keep her feet dry. The bright pink heavy-treaded rubber sole is not only stylish, but it'll help keep her feet from slipping on wet surfaces. Future firefighter If your little guy dreams of being a firefighter when he grows up, these Umar fireman rain boots (Target, $23) are a perfect fit! They're waterproof, have a cushioned insole for comfort and the pull-straps make changing in and out of them a cinch... in case there's an emergency fire to tend to!
Full content material obtainable in this article:
http://www.sheknows.com/parenting/articles/981731/rain-boots-for-kids
Must-have wet weather kicks for kids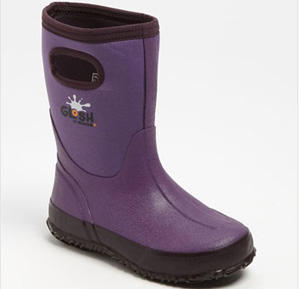 7, the charitable group this season has given away 800-plus articles of winter clothing. During its 13-year stint, more than 14,000 coats, hats, scarves, gloves, muffs and winter boots have been given to Lincoln Countys needy. If anyone in Lincoln County is going cold this winter, its not my fault, said Pam Peppenger, the Kiwanis representative who oversees the operation. The Kloset is located just inside the front doors at Asa Wood, first door on the left. The room is staffed by members of the local chapter of Retired and Seniors Volunteer Program (RSVP). The RSVP members are so crucial to the success of Koats 4 Kids, Peppenger said.
Obtain all the full facts over here -
http://www.thewesternnews.com/news/article_500f83d8-5c58-11e3-bb06-0019bb2963f4.html
Helping indigenous kids ... boots and all
(14 Photos) Lisa Biletska & Kate Winick on Jan 3, 2012 at 3:25PM Next Up: Our Favorite Kids Coats -- Under $60! starts in 3 seconds What boots are you buying your kids this year? Chime in now! Cute Boots for Kids Little Lady Boots Not only are these spat-style booties channeling cowgirl-gone-Euro chic (hello, scalloped cream leather!), their flexible rubber soles mean that your wee girl won't be weighed down by a chunky winter boot. Style and function? Sign. Us.
To see the entire original edition together with any existing supplementary photographs or video clip, check out:
http://www.ivillage.com/cute-and-warm-kids-boots-get-these-styles/6-b-400875
Koats 4 Kids well under way in 13th season
Picture: Stuff.co.nz Update: 10:15AM A Taranaki real estate company and football club have teamed up to kick-off a drive to collect old boots. New Plymouth's FC Western and TSB Realty have got the ball rolling collecting donations of old and unused boots which will be given to players in Fiji to help develop the game over there. FC Western member Greg Hull said he first got the idea when he visited the country four years ago. "I saw a number of kids kicking a ball around and nobody had any gear," Mr Hull said. "The opportunity has arisen again and we just thought that it was a good idea if anybody has got any lying around to donate them." Mr Hull said any boots could be dropped into the TSB Realty offices, on Devon St East, before October 7, and he would take them to the islands when he visited next month. "I'll just go and see some of the schools in the villages." Faiyaz Ali, who plays for the club's first Fijian team, said football was a popular sport and he believed the boots would help nurture the game. "It was pretty difficult to afford boots when I was growing up and playing," Mr Ali, who has lived in New Zealand for nine years, said. "It would be doing a good thing for kids who can't afford boots." Mr Ali said the club's Fijian team, which played in the second division, had improved during the season.
See all the complete information over here -
http://www.fijitimes.com/story.aspx?id=247063
Lincoln, NE, December 29, 2011 --( PR.com )-- In the spirit of Christmas Fort Western Stores donated kids' cowboy boots and toys again this year to Uncle Ron's Country Christmas Toy Drive which benefits the Center for People in Need. Uncle Ron's asks that participants donate new, unwrapped gifts, cash or clothes for those who are having a tough time in today's economy, especially around the holidays. "It's important that we give back to our community in order to show that we are not just a place of business, but an active member of our city who cares about the needs of our friends and families," said C. Steve Wohlfarth, COO and General Manager of Fort Western Stores Inc. The Fort's donation consisted of Western Christmas gifts ranging from new toys to new cowboy boots for kids of all ages. The Fort, continuing efforts to give back to the local community, has also donated generously to a local food bank to further help those in need during the holiday season.
Attribution to:
http://www.pr.com/press-release/379828
Up there, Junior, boots are our goal
http://www.scoop.it/t/toddler-girl-cowboy-boots From next Wednesday, special collection bins will be in every Coles supermarket in Victoria so they can be taken to remote communities in the Northern Territory and Western Australia.' style='float:left;padding:5px' />
Not by choice but because he has grown out of his boots. Future champion: Junior Shandley shows his approach to football. Photo: Pat Scala ''I have been to a few remote communities and I have seen plenty of kids play footy and a few at a high level and this kid is potentially AFL material if given the right opportunities,'' said school principal Ken Molyneux. But coming from playing barefoot in the economically troubled community in remote WA, Junior is coming from a long way back. ''His hand-eye co-ordination is fantastic and his ball-handling skills? He can pinpoint a kick anywhere, he is very accurate.'' In Junior's community, Mr Molyneux says, employment opportunities are limited if and when the kids graduate from school.
View the original data here:
http://www.theage.com.au/afl/afl-news/up-there-junior-boots-are-our-goal-20130722-2qf3y.html